Santa Retiring… Succession Plan in Full Swing
Dateline: North Pole, Christmas 2014, By Nancy L. Clark
This week Santa notified the Board of Directors of North Pole Inc. that 2014 would be his last year. He and Mrs. Claus were eager to retire and he was confident that his successor was more than ready.
The Board was supportive and applauded Santa's dedication for all these years. It was a strenuous job with most people not realizing the time commitment that was required. Santa and Mrs. Claus rarely got more than a few days of vacation. After the Christmas clean-up, he and his elves immediately began new toy design, safety testing, production planning, etc. All agreed, that Santa more than deserved his retirement.
Fortunately, North Pole Inc. was ready for the transition. Several years ago, Mr. Ebenezer, the Chairman of the Board, approached Santa. Santa shared that he had started playing golf and he and Mrs. Claus recently had purchased a home in Belize. Both men agreed that it was time to develop a formal succession plan. Santa promised to help select and develop the next Santa and already had someone in mind.
Given the global exposure and impact, not only did North Pole Inc. need to address the successor selection, development and transition, but it also had to attend carefully to the communication. North Pole Inc. had to be careful not to cause children concern or send parents into a panic or cause elf morale to plummet.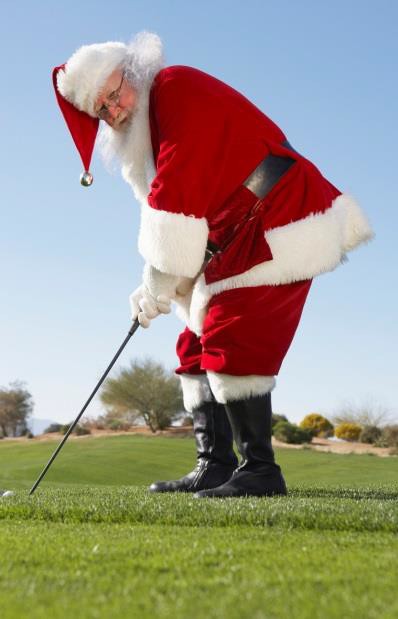 Santa and the Board wanted to ensure that speculation or rumors would not impact toy production. Consequently, regular meetings were held with the elves and reindeer to updated them on what was happening, to answer any questions, and to thank them for their support. Despite the open two-way communication, the current production numbers were slightly below target which Santa and the Board anticipated. Although the transition was going smoothly, the elves naturally were still a bit distracted.
At the Board Meeting this week, Ebenezer announced that Santa had decided to make 2014 his last. Upon the news, the Board exploded into shouts of: "This could be the end of Christmas!" "We have to control the media – we can't scare all the children!" "The parents are going to have our hides!" "Santa, can't you stay another year or two?"
With the bang of the gavel, Ebenezer recognized Mr. Marley's raised hand, one of the more pragmatic Board Members. "Everyone should take a deep breath and calm down. We are faced with what every Board in the world has faced, is facing, and/or will be facing – the retirement of its leader. Given it is Santa, our concern and global exposure is great. We have to be very thoughtful; we cannot make a mistake and we won't. Everyone here knows that we have been working on Santa's succession for several years. We are prepared and ready."
The Board had been thoughtful and very deliberate. They never wavered from their successor criteria:
Knowledge: Christmas history, geography, toy production and logistics
Skills: Sleigh driving
Abilities: Work under tight time pressures, high quality standards, team builder, able to lead diverse workforce, engaging and supportive of staff
Other: Keep and promote the same vision and values as the current Santa; have the interest, passion and commitment to the job
After much deliberation and input from Santa, they selected Santa's youngest son, Kris. Mikulas, the eldest son, was more interested in reindeer racing than Christmas; Silver Bell, the daughter, was an engineer and partner in a new toy technology start-up; Nicholas, the middle son, was a lean six sigma consultant; Kris, the youngest, worked at North Pole, Inc. in charge of logistics.
Over the last few years, Kris spent time in all the departments – learning everything about toy design, ribbon and gift wrap, production, chimney navigation, , etc. He was given a leadership coach to help him with the process and to accelerate his learning. He soaked up all of it and seemed to love everything about the work. The elves loved and respected him; the support "Santas" who attended Santa University thought he was great. And, last year, with the guidance of Rudolf, he delivered all the South American presents on Christmas without incident.
Ebenezer resumed control of the meeting. "Santa, is Kris ready?"
All knew that Santa was shy and not comfortable speaking in front of groups, yet he stood, marched confidently to the front of the room and with a resounding voice said, "Kris is more than ready. He will be a great Santa. It is his time." All members nodded their approval. With that, Santa opened the door and invited Kris to join them. The Board broke into applause. Kris formally accepted the position along with a big bear hug from his father and cheers from his siblings.
The succession plan had given Kris plenty of time to learn all the facets of the job, to learn from his predecessor, to meet and work with all the elves, reindeer, etc. Santa promised to be the backup for 2014, but everyone knew that Kris could handle it. The only thing left to do was to plan a big celebration after Christmas to thank Santa – the predecessor and the successor. Christmas would continue for many, many years thanks to the thoughtful planning of Santa and the Board!
---
What did Santa and the Board do right?
They prepared; they didn't ignore or pretend Santa would never retire.
They came together as a team and agreed what was needed in a successor.
They identified not only needed knowledge and skills for the position, but also abilities, behaviors, and other critical elements to the position. (In fact, they put more weight in these elements since there were no candidates with previous Santa experience.)
They provided time to test, build, and develop the successor so that he would be ready and so that disruption to the whole organization would be minimized.
Leadership Dynamics is a premiere global management consulting firm specializing in:
Talent optimization
Organizational design/team construction
Leadership development & performance
Productivity/process improvement
Strategic planning and resource alignment
Sales growth
Communication improvement (internal & external/media)
We work with leadership teams to successfully achieve goals and build positive work environments by developing customized programs. By combining assessment, education, coaching and consulting, we solve challenges and equip you and your team with the needed knowledge to accelerate and sustain your company's success. Leadership Dynamics is also a member of PI Worldwide with a network of 350+ consultants worldwide, operating in more than 140 countries allowing us to support your global needs locally.
To learn more about how you can harness the power of your talent resources and achieve world class results, please email us at info@leaders-inc.com or call us:
Americas/Asia Pacific                                                          Europe/Middle East/Africa
+1 855.831.9100 (Office)                                                   +353 87.257.8530 (Office)
+1 925 831.9196 (Fax)                                                         +39 075.903.3123 (Fax)

© Copyright 2014, Leadership Dynamics, Inc. All rights reserved.